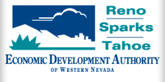 California Headquarters Relocation to Reno, Nev. Brings 41 Jobs
RENO, Nev. –July 18th, 2013 – 4506-Transcripts.com a division of Private Eyes, Inc., and the Economic Development Authority of Western Nevada are pleased to announce the California headquarters' relocation to Reno, Nev. to accommodate the company's rapid growth.
4506-Transcripts' decision to move to Reno came after considering several other site alternatives including Texas, Florida, and Las Vegas. Reno is only a few hours from major California markets, yet provides the pro-business and quality of life balance necessary for most business owners. Private Eyes, the parent company, is headquartered in Walnut Creek, CA.
"After an intense search, we are very excited to have chosen Reno, Nevada as the location for 4506-Transcripts. You just can't beat the winning combination of the location and high caliber people we found. We are very eager to settle in and keep growing!" stated Sandra James, President of 4506-Transcripts.com, regarding the expansion of her company.
"It is exciting to help companies like 4506-Transcripts understand the many advantages of doing business in the Reno-Sparks community," said, Mike Kazmierski, CEO of EDAWN. "These smaller companies are a great fit for our region and 4506-Transcripts is also committed to engaging with the talent at UNR as they expand their operations here in Reno."
The company provides back office support, and is targeted as a key sector for economic diversification in Nevada.4506-Transcripts plans to hire 41 new employees in customer service, where they will be working with technology in an office environment. The labor pool from the local University was a key factor in influencing the move. 18,000 students with superior skills in customer management and technology will provide an abundance of available talent.
The California headquarters' move brings significant capital expenditures, corporate citizenship, and an increased likelihood of investment in our community. They are following the trend of other California companies heading east for a healthier business climate.
The Nevada location opened early July and is now hiring. To apply for available positions please send resumes to resumes@privateeyesinc.com